December 20-27, 2000
Ingraham Hill, Binghamton, N.Y.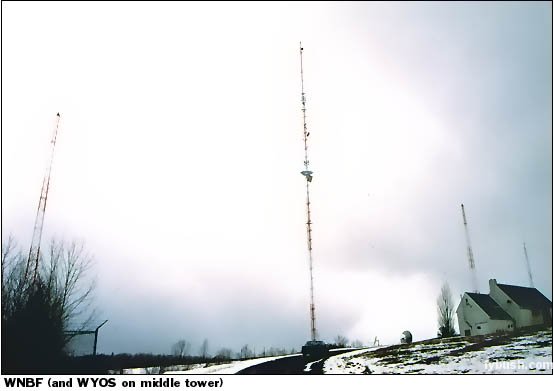 High in the hills south of Binghamton, a stone's throw from the Pennsylvania line, sits the cluster of towers that supplies the region with all of its TV, most of its FM, and the market's top-rated AM.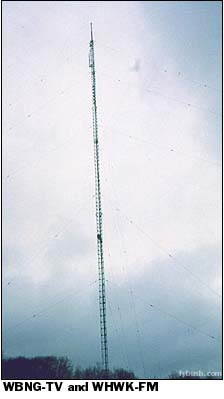 Ingraham Hill has been home to broadcasting since at least 1949, when WNBF-TV 12 took to the airwaves from the site shown at the top of the page. These three towers are also home to WNBF (1290), with the middle tower having once been a Franklin radiator (although it's no longer used in this way.) Was WNBF(AM) up on the hill before its TV and FM counterparts? I honestly don't know...but I'll be glad to update this page as soon as someone more knowledgeable than I provides the answer. I do know that WNBF is now running 9300 watts daytime from that center tower, up from the original 5 kilowatts. (Night operation is still 5000 watts directional from all three towers.)
WNBF-FM dates from the same era as WNBF-TV. Originally on 44.9 and 100.5 MHz, the station settled down on 98.1 MHz, where it remains today as WHWK, playing country as "The Hawk." (During the 1970s and much of the 1980s, 98.1 was beautiful music WQYT.)
WHWK transmits with 10,000 watts from 960 feet above average terrain, just below the Channel 12 antenna in the picture to the left. Channel 12, of course, is no longer WNBF-TV, and hasn't been for decades. But as WBNG-TV, it still shares a site with its former radio partners. One more station joined them at this site in the late nineties. WYOS (104.1 Chenango Bridge) is a class A drop-in that uses 930 watts from 833 feet AAT, on the center tower of the WNBF array.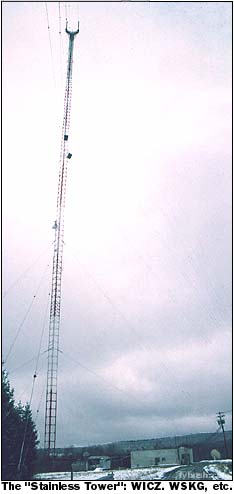 If the WNBF/WBNG site were the only thing on Ingraham Hill, it would be interesting but hardly distinctive. Thankfully (at least for those of us passionate about tower farms), it's hardly alone up there.
Just down Ingraham Hill Road is the tower that's home to three more TVs and several FMs.
Binghamton broadcasters know this one as the "Stainless tower," for the Pennsylvania-based tower firm that built it when it bought the city's NBC affiliate, WINR-TV (Channel 40).
WINR-TV had been operating from the transmitter site of its sister station, WINR (680), on Windy Hill near the psychiatric center northeast of downtown Binghamton. That tower still stands, but it's not very tall, and it required viewers to swing their antennas around in order to tune away from dominant Channel 12. With just 575 kW visual from 630 feet above average terrain, the old channel 40 signal can't have been very impressive.
When WINR-TV became WICZ (the last four letters of the last name of Stainless' owner, Henry Guzewicz!), it moved to one tine of this big candelabra. By 1971, WICZ was running its 565 kW visual from a much more impressive 1,231 feet above average terrain.
Joining it on this tower (actually, preceding it by a few years) was Binghamton's new public television station. WSKG-TV (Channel 46) began broadcasting from the candelabra in 1968. WSKG-FM (89.3) came along in the seventies to join its TV sister, and it too uses this tower.
Next up on the big stick was WAAL (99.1), the former WKOP-FM, which had been using 33 kW from 440 feet in its previous incarnation (perhaps from the WKOP 1360 towers on a nearby hilltop in the Town of Binghamton?) before jumping up to the Stainless tower with a mighty 50 kW from 1090 feet AAT in the seventies, thus becoming Binghamton's most powerful FM signal.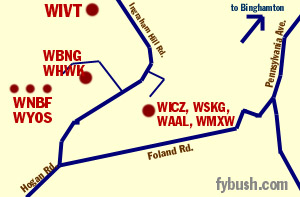 A few more stations joined the Stainless tower family in the years that followed. A new class A station, WMXW (103.3 Vestal), signed on in 1989. A few years later, WICZ switched networks from NBC to Fox, leaving an affiliation hole that was soon filled by a new low-power TV station. WBGH-LP (Channel 8) operated from Ingraham Hill as well, initially as a simulcast of Elmira's WETM-TV (Channel 18), and later as a sister station of WIVT (Channel 34) - but read on for that story.
Trinity Broadcasting has an LPTV on the Stainless tower. Formerly on channel 14, it's now W26BS.
The most recent addition to the hill came in 2000, when Owego's WLTB (101.7) changed city of license to Johnson City and began operating from Ingraham Hill as well. (WLTB had a 102.5 translator on the hill for several years prior to moving its primary signal.)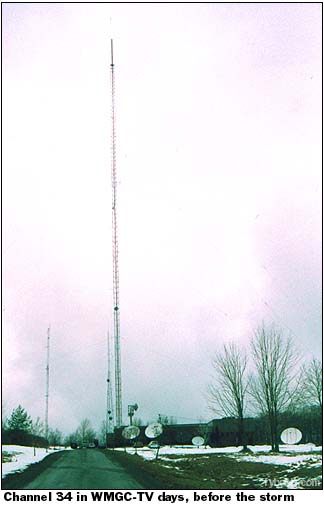 There's still one more TV signal up on this hill, and its story just might be the most interesting of them all.
WBJA(TV) was originally allocated to channel 56, but it was able to move to channel 34 before its 1962 debut, thanks to the merger of two failing UHF stations an hour to the south. WILK-TV (Channel 34) in Wilkes-Barre gave up its allocation when it merged with WARM-TV (Channel 16) in Scranton to form the new WNEP-TV.
WBJA was an ABC affiliate, and for three decades the lowest-rated station in the market. It was also the only Binghamton station whose studios were up on Ingraham Hill.
One NERW reader once related to us the story of driving up the hill with other teenagers in the 1960s to be part of the audience at WBJA's after-school "American Bandstand"-style dance party, and the wild ride back down into town afterward.
In the late seventies, WBJA was sold and became WMGC-TV, "Magic 34." Your editor fondly remembers the ID slide the station used circa 1980, featuring a pair of magician's hands, a rainbow, and the WMGC call letters. The new calls didn't do much for the ratings, and WMGC remained a ratings also-ran well into the nineties.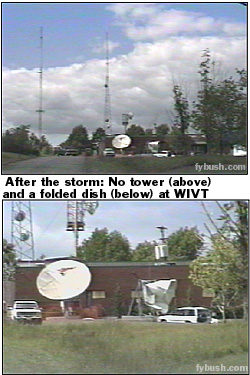 Then, in the space of just a few months in 1997 and 1998, everything changed at Channel 34. A new owner, Ackerley Broadcasting, took over and began investing money into the station's news operation. With resources shared with Ackerley powerhouse WIXT (Channel 9) up the road in Syracuse, the newly-renamed WIVT was poised to become a force in Binghamton news for the first time.
On the afternoon of Sunday, May 31, 1998, WIVT's revival came to a literal crashing halt. Tornado-force winds blew across Ingraham Hill, ripping holes in the channel 34 building as terrified master-control operators cowered beneath the board. Worse yet, when the board operators came up for air, they found the channel 34 tower demolished.
WIVT remained off the broadcast airwaves for several months, though a feed to local cable companies was back up and running with network programming within several days. Local programming resumed a few days later, from temporary studio space leased from WSKG-TV in Vestal.
Your editor drove up the hill about a week after the storm, to find a big blue tarp covering much of the damaged WIVT building and a guard with a pickup truck and a mean-looking dog suggesting we move on -- which we did!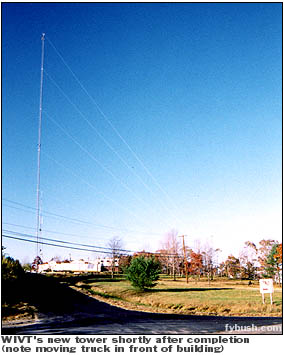 By the fall, a new tower was up at the WIVT site, and broadcasting had resumed on channel 34.
The damage to WIVT was the worst on the hill, but other stations suffered as well. One of the self-supporting towers in the WNBF array shown above (most of the pictures on this page were taken on a snowy New Year's Eve 1995, long before the storm) was toppled in the high winds. For quite a while thereafter, WNBF operated with reduced power at night from the remaining two towers.
A few footnotes to our Binghamton story: When digital TV comes to the Southern Tier, Binghamton will become a mostly-VHF market for the first time in its history. WIVT-DT will be on channel 4, matching its call letters and its cable dial position. WICZ-DT will be on channel 8, and WBNG-DT on channel 7.
There are only three other FM sites of any significance in the Binghamton area. WMRV (105.7 Endicott) and WBBI (107.5 Endwell) use a tall tower in the hills north of Endicott, across the Susquehanna from the Ingraham Hill site. WSKG's sister station, WSQX (91.5), uses a tower near the Broome County BOCES facility just north of route 17 and west of downtown Binghamton. WKGB (92.5 Conklin), WCDW (100.5 Susquehanna PA), and WJIK (90.1 Binghamton) are on a short, hard-to-find tower far to the east of Binghamton in West Windsor, a few miles off route 17. Oddly, Binghamton's other AM stations are also up in the hills. WINR (680) we've already covered; WKOP (1360) is just a short drive away from Ingraham Hill in the town of Binghamton; and WENE (1430 Endicott) has a distinctive five-tower array south of Vestal Parkway near route 26 in Vestal. We'll make the Binghamton AMs a Site of the Week sometime next year...